An All Electric Future
We showed the world how simple and smart owning an-electric vehicle can be – but that was just the beginning. With GM's Ultium† platform and Ultifi† technologies to power most of our vehicles, we're heading toward an all-electric future. We want you in the passenger seat with us for all the innovations, announcements, and reveals as we create some of the most exciting and advanced vehicles in Chevrolet's history.
Powering the future.
Designed from the ground up to power our all-electric lineup, the Ultium Platform† is our electric solution for the future — making electric propulsion, exhilarating torque and zero emissions driving possible.
Redefining vehicle ownership.
Ultifi† is GM's software platform that will usher in a new era of software-defined vehicle experiences and services. It will enable seamless delivery of upgrades, personalization options, and new and exciting apps to drivers on demand, plus regularly pushed software improvements.
Chevrolet's top-selling SUV redesigned with the First-Ever All-Electric Equinox—featuring a sleek new design and confident capability that will help you conquer the everyday. And with an available GM-estimated electric range of up to 480 km on a full charge with 1LT, 2LT and 2RS models,† you can take it wherever the day takes you.
STYLE THAT TELLS A STORY
A clean, modern exterior with walk-up lighting puts you centre stage. Inside, tons of technology like an available massive 17.7-inch diagonal driver-centric freeform display and personalized ambient lighting make you feel like the centre of attention.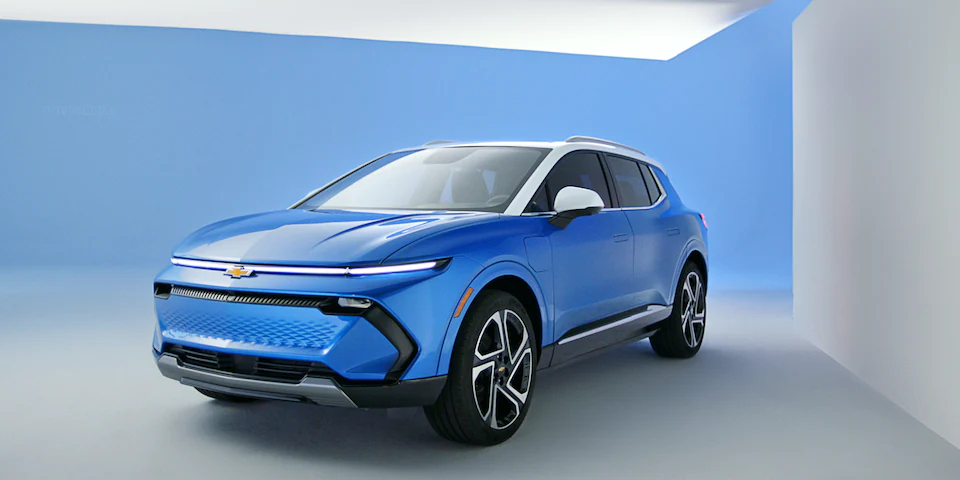 CONFIDENT. CAPABLE.
MADE FOR THE EVERYDAY.
Exceptionally designed with SUV capability and modern technology, Equinox EV is proof that electric doesn't have to mean exclusive. Enabled by the Ultium Platform — this sporty, refined vehicle is engineered to be the total package made affordable, electrifying your daily drives.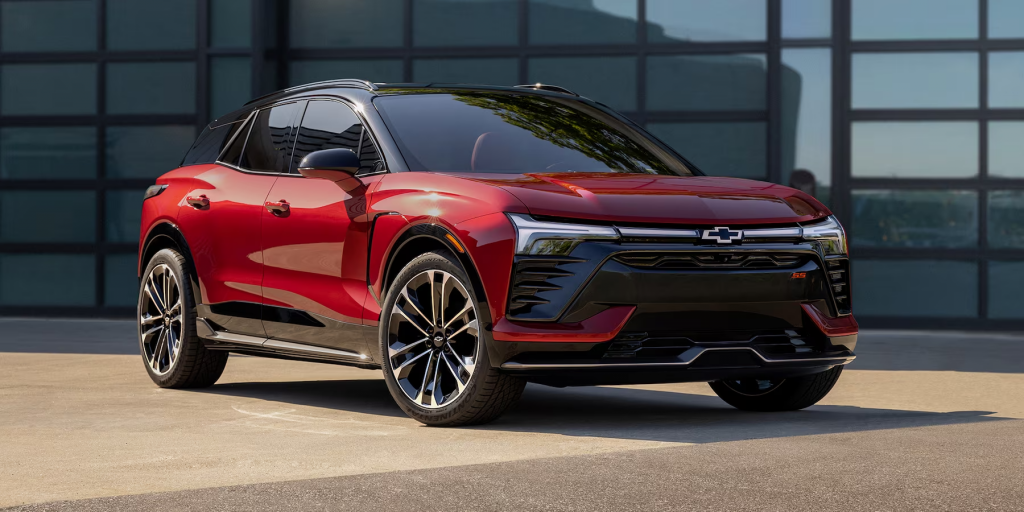 REIMAGINE WHAT AN SUV CAN BE
Blazer EV is the complete package with style, performance and technology. Available in multiple trims, colours and battery ranges, this daring new all-electric mid-size SUV is built from the ground up around the game-changing Ultium battery platform. Ultium offers flexibility in charging speeds, vehicle range and performance – giving the sporty Blazer EV the sheer power and confidence needed to go the distance.
THE FIRST-EVER
ALL-ELECTRIC BLAZER EV
Bold, futuristic design. An available GM-estimated Electric range of up to 515† km on a full charge with RS RWD model. Responsive acceleration of 0-96 kmph in under 4 seconds† with Wide Open Watts performance mode enabled on SS trim. That's the First-Ever All-Electric Blazer EV. SS anticipated availability Fall 2023. 2LT & RS anticipated availability Summer 2023.

SILVERADO EV
Even with all the "new", Silverado EV is living up to the Silverado reputation. Charge ahead to check out this game-changing all-electric truck and reserve† yours today. Anticipated availability early 2024.
CHARGE UP YOUR IMAGINATION.
Smart. Agile. Aerodynamic. Fast. Not typically what you think of when you think of a truck. But Silverado EV isn't just a truck. It's a category-defying, boundary-breaking game changer that can be what you need and want it to be.
Dominating outside, spacious inside and nimble all around—the GMC HUMMER EVs' numbers equal more commanding, comfortable and confident adventures for you, your companions and all your gear.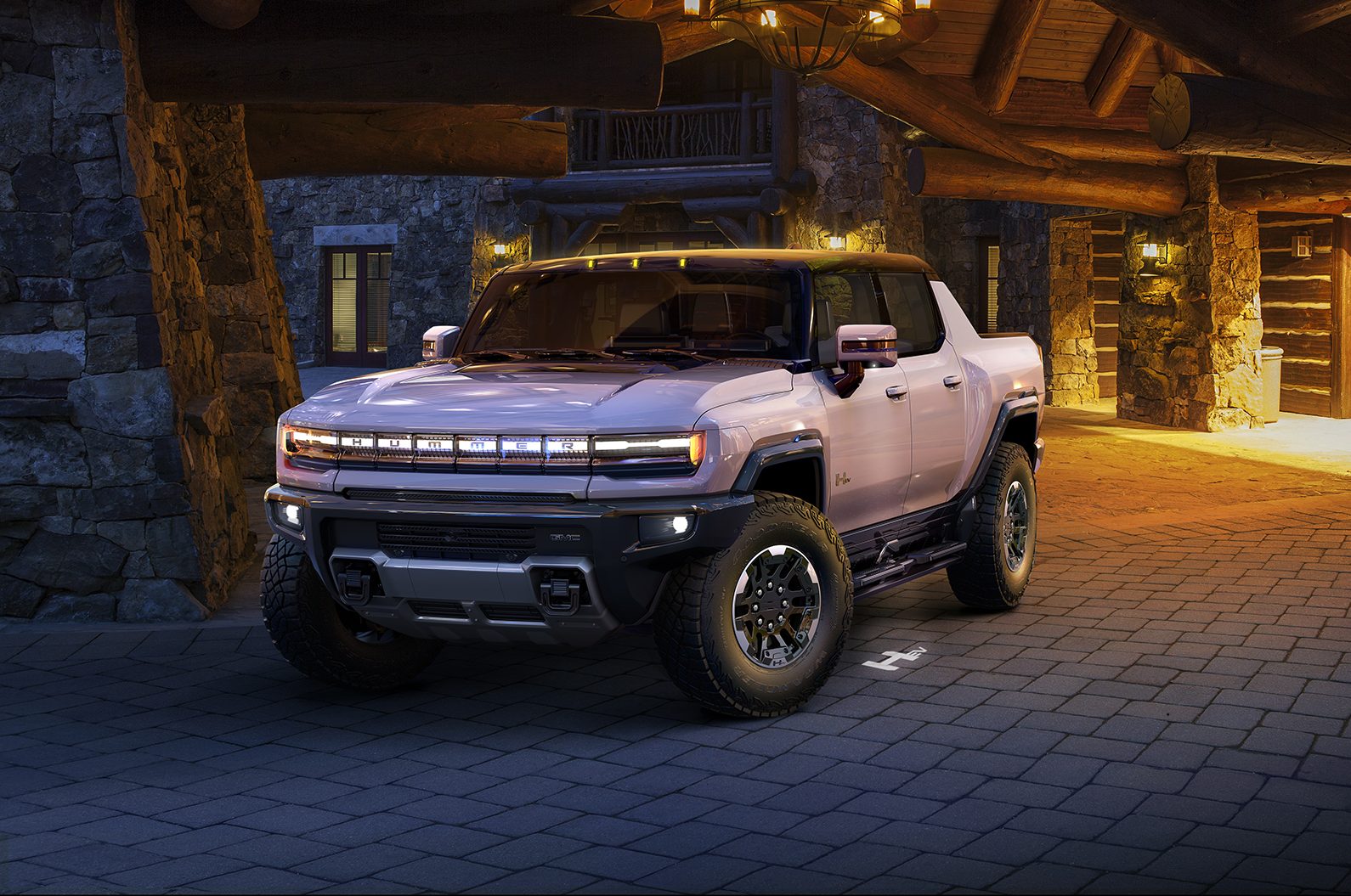 Simple. Affordable. Fun. See how driving a Bolt EV makes it easy to drive efficiently and confidently ahead.
INTRODUCING THE BUICK WILDCAT EV CONCEPT
Our vision of what the future holds debuts with the Buick Wildcat EV concept. It is a leap forward that builds on our legacy of innovation, as well as expressing a vision of Buick's new design direction and pointing to its all-electric future. With its poised, ready-to-pounce stance plus its design for advanced artificial intelligence and biometric technology, the Wildcat EV concept is efficiency and innovation in a head-turning package. Which is to say, it's electric in every way possible.
ADVANCED TECHNOLOGY IN TODAY'S BUICK LINEUP
AMAZON ALEXA BUILT-IN
It's the same Alexa you know, but now just on the go. Just ask Alexa to play music, get directions, make a phone call and a whole lot more. With available Amazon Alexa Built-In,† you can use your voice to maximize any drive.
HEAD-UP DISPLAY
The available Head-Up Display projects critical information such as your speed onto the windshield to help keep you confidently in command.
AUTOMATIC PARKING ASSIST WITH BRAKING
Available Automatic Parking Assist† with Braking can search for a parallel or perpendicular parking space then steer and brake your vehicle into that space using limited braking.
Developed to be the Corvette owners can arrive in anywhere, no matter the season, the new E-Ray- available in removeable roof coupe and hardtop convertible models - uses electrification to enhance the driving experience with intense straight-line performance, all-weather confidence and sure-footed grand touring capabilities that can only be achieved with eAWD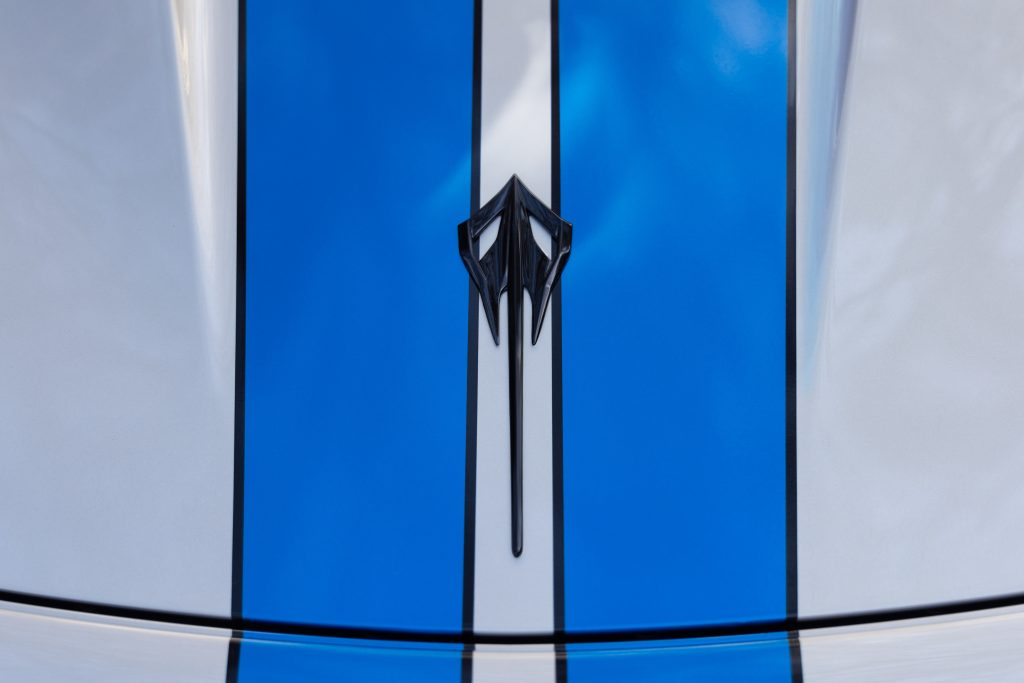 LIGHTNING STRIKES AGAIN.
Over 70 years and eight generations, Corvette has been innovated upon time and time again. And now, it's been electrified for the first time with an e-AWD system that works in tandem with its LT2 VS naturally aspirated internal combustion gas engine to give it the fastest O - 96 km/h time ever for this legendary nameplate.
But this latest Corvette isn't made simply for performance. With standard all-season tires and Magnetic Selective Ride Control, it's designed for all-season touring too.
ZER PERFORMANCE PACKAGE
When you're ready for even higher performance, you need the available ZER Performance Package. It comes standard with high-performance Michelin Pilot SPort 4s ZP summer-only tires as well as chassis tuning and other performance enhancements.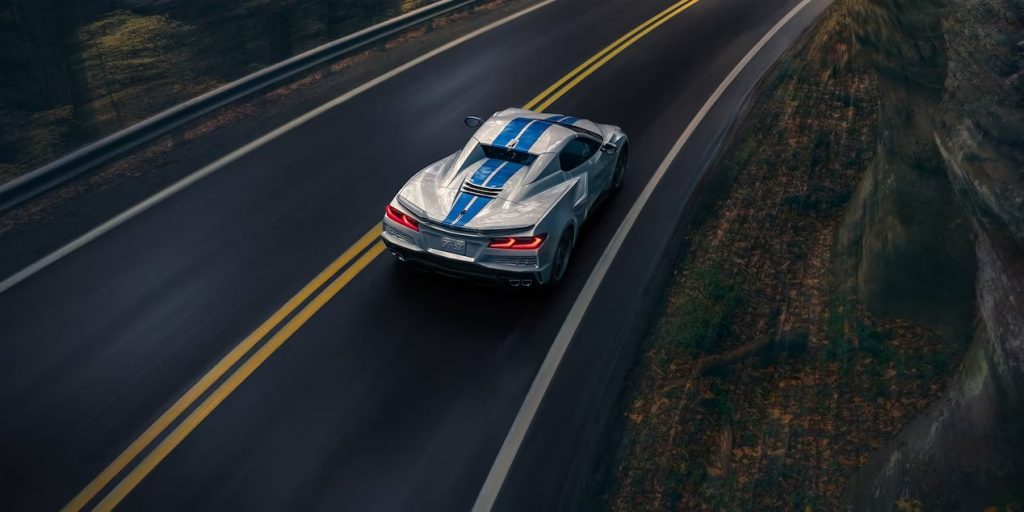 Sign Up for Updates
You'll be among the first to receive product information as it becomes available.
Frequently Asked Questions(FAQ)
Many people believe they will have to charge their electric vehicles at gas stations like they did with their traditional fuel vehicles. However, in reality, most people will charge their EVs at home, mainly at night when they return from work. There are also many charging options available in other locations. Some people may still have concerns about the availability of charging infrastructure. However, it will only account for about 5% of the time when charging away from home, such as during a road trip. To maintain a full battery, it is essential to change the habit of waiting until the battery is almost empty to recharge and instead take advantage of charging opportunities whenever possible.
Currently, there are over a dozen charging stations in the city, and the infrastructure is continuously improving. Petro Canada has committed to providing charging stations every 268 kilometers along the number one highway, making it easier to travel from one station to another. For EV owners who live in condos and apartments where they don't have the ability to install a charger, it may be a bit challenging to charge at home.
Nowadays, almost every EV uses a standard charging connector. The previous generation of the Nissan LEAF had a unique charger, which is no longer used. Therefore, every EV owner can use the same charging stations and connectors.
The range of an EV decreases in cold weather, just like with traditional fuel vehicles. Depending on how the vehicle is operated, the range could decrease by as little as 15%, including preconditioning. Preconditioning is an important factor to consider when maintaining the range of an EV. It can improve the range by up to 30%, depending on how it is used. If you are someone who parks your EV outside and starts it cold, you may experience a higher range reduction. In contrast, if you park it in a garage and keep it charged regularly, you may have a lower range reduction.
Two things that EV owners can do to improve their vehicle's range are preconditioning and using the HVAC system wisely. Preconditioning refers to warming up the battery and internal components before unplugging the vehicle, which saves energy from the battery. Additionally, using the HVAC system wisely, such as opening windows when the weather is mild and using heated seats and a heated steering wheel if it's a bit cooler can help to conserve energy and maintain a longer range.
Currently, there is a bit of a premium involved in moving from an ICE (internal combustion engine) vehicle to an EV, but this is somewhat offset by the fact that there are no oil changes required. There are different coolant reservoirs which do need to be maintained, and some other things like brakes, suspension, and tires remain as part of the overall maintenance and service schedule.
It varies from province to province, but Manitoba's electricity rates are among the lowest in the country, so an EV that travels an average of about 15,000 KM per year would consume roughly the same amount of energy as a common electric water heater, which equates to approximately $0.01 to $0.02 per KM, or about $300 per year (and potentially saving as much as $2000 per year or more). Over the course of several years of ownership, this equates to a significant savings in fuel costs alone.
Yes! There are government rebates available. The iZEV (Incentives for Zero-Emission Vehicles) is a is a fund set aside by the federal government which is currently available until March 31 2025, or until the available funding is exhausted, whichever comes first. There is a maximum rebate of $5000 available, depending on the vehicle chosen. All of our vehicles quality for this amount of after-tax savings, so it represents a great opportunity to lower the initial acquisition cost of the vehicle.
† Conditions may apply. See Product Advisor for details. Dealer Permit #4240